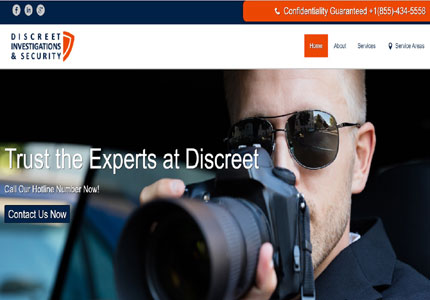 At Discreet Investigations, we understand the importance of getting answers for you the right way and discreetly. That's why so many people have approached us to investigate cheating spouses, child custody, missing persons, carry out premarital background checks and more.
Discreet Investigations has led the private investigation and security industry in the Greater Toronto Area for 30 years. Our team of licensed investigators is reputed as being the best in the Greater Toronto Area. We have a dedicated legal department and our expert investigators comprise retired police officers trained in investigation, corporate investigators, and ex-military personnel.
Discreet Investigations provides holistic protection for your privacy. It is for delivering the right results and 100% confidentiality that clients trust us with their concerns. Get in touch with us now at +1 (855) 434 5558 or visit our website. Whether it is a family issue, divorce, real estate or business-related problem, we will help you make informed decisions.
Discreet Investigations
Toronto, Ontario
+1 855-434-5558
discreetinvestigations.ca