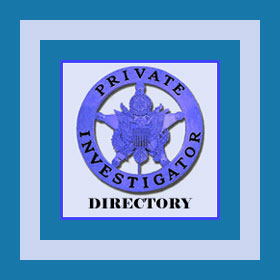 Welcome to The Private Investigator Directory, featuring listings of recommended private detectives, as well as process servers, bodyguards, bail bonds enforcement agents, expert witnesses, polygraph examiners and private security contractors. Professionals in any of these fields are invited to submit their business details to the directory and receive their own personalized and dedicated page on the internet's most trusted detective website: Private-Investigator-Info.Org.
Potential clients can have confidence in the investigators listed in our directory. They have been thoroughly screened during the application process and represent the best in the industry. Each investigator's page details their training, education, areas of expertise and case specialties, as well as provides information on their licensure and insurance coverage. It is our goal to help every client to find the best investigator for their needs, not just send them along to whoever happens to be close by.
Private Investigator Directory Inclusion
Private investigators and related industry legal services professionals can use the Directory Application to become part of our referral service. We will contact you directly to discuss your listing and design the perfect page for your needs. Please make sure to fill out all fields so that we can consider your request and write to you regarding your application. Be especially careful to provide us with a valid and working email address, since this is how we will contact you.
Please be patient, as it will take time to build a useful directory of investigation services. We will not accept every submission and would rather have a smaller directory of quality providers than list everyone, simply to make money.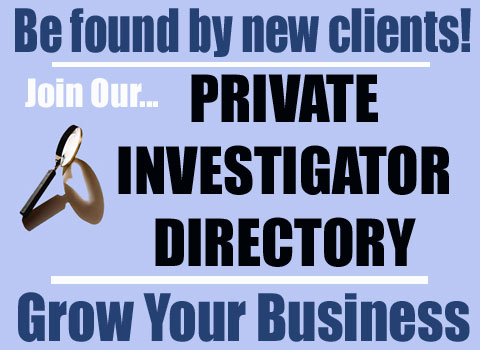 Private Investigator Directory Listings
UNITED STATES
CALIFORNIA
California Private Investigator
Beverly Hills Private Investigator
Los Angeles Private Investigator
San Diego Private Investigator
San Francisco Private Investigator
THE CAROLINAS
COLORADO
CONNECTICUT
Connecticut Private Investigator
FLORIDA
Fort Lauderdale Private Investigator
Jacksonville Private Investigator
GEORGIA
HAWAII
ILLINOIS
INDIANA
Indianapolis Private Investigator
MARYLAND
Baltimore Private Investigator
MASSACHUSETTS
MICHIGAN
Frederick Castle
castle_f@msn.com
NEVADA
Las Vegas Private Investigator
NEW JERSEY
New Jersey Private Investigator
NEW YORK
Long Island Private Investigator
OHIO
Cleveland Private Investigator
OKLAHOMA
Alpha Team Private Investigations
3137 S 129th E. Ave. Suite 1155
Tulsa, OK 74134
(405)-237-4671
alphateampi.com
Sulivant & Sulivant Investigations
201 W 5th St Suite 520
Tulsa, OK 74103
(918) 895-2530
https://www.statewidepi.com
OREGON
PENNSYLVANIA
Philadelphia Private Investigator
Pennsylvania Private Investigator
PUERTO RICO
Puerto Rico Private Investigator
TENNESSEE
Nashville Private Investigator
Server Investigation Service
Cleveland, TN
Phone: 423-250-3800
Fax: 423-250-1892
serverinvestigation.com
Email: michaels@serverinvestigation.com
TEXAS
VIRGINIA
WASHINGTON
WASHINGTON DC
Washington DC Private Investigator
INTERNATIONAL
International Private Investigators
Capricorn Consult
Ul."Tsar Simeone I" No. 71
8000 Burgas
Bulgaria
Office: +49-(0)6722-203455
Mobile: +49-(0)170-4248000
Skype: capricorn_65
Email: info@capricorn.cc
Email: capricornconsult@email.de
capricorn.cc
BRAZIL
CANADA
Discreet Investigations
Toronto, Ontario
+1 855-434-5558
discreetinvestigations.ca
Vancouver Private Investigator
COSTA RICA
Costa Rica Private Investigator
FRANCE
GERMANY
Capricorn Consult
Ul."Tsar Simeone I" No. 71
8000 Burgas
Bulgaria
Office: +49-(0)6722-203455
Mobile: +49-(0)170-4248000
Skype: capricorn_65
Email: info@capricorn.cc
Email: capricornconsult@email.de
capricorn.cc
GHANA
Smirush International Ltd.
Darkwa Avenue No. 1
Greater Accra Ghana.
+233540899845 Ghana Office
+2349068801788 Nigeria Office
info@smigh.com
smirushltd@gmail.com
bforum9@gmail.com
INDIA
Watchdog Detectives
Dinonath Malick (CEO)
153 Rash Behari Avenue, Kolkata 700 029 India
+91 98311 64231
Email: watchdogdetective@gmail.com
ISRAEL
Israel Private Investigator
ITALY
JAPAN
MEXICO
NIGERIA
Smirush International Ltd.
Darkwa Avenue No. 1
Greater Accra Ghana.
+233540899845 Ghana Office
+2349068801788 Nigeria Office
info@smigh.com
smirushltd@gmail.com
bforum9@gmail.com
PHILIPPINES
Philippines Private Investigator
RUSSIA
SERBIA
SCORP
Corporate Investigations and Consulting
Bulevar Mihajla Pupina 10 I, Suite 464
11070 Belgrade, Serbia
SRB/Viber: +381 62 309 998
US/Canada: +1 312 662 3216
+1 312 973 7310
scorp.rs
Email: mila@scorp.rs
SPAIN
SWITZERLAND
Private Investigator Switzerland
Swiss Security Solutions Ltd.
Schaffhauserstrasse 550. Postfach
CH-8050 Zürich, Switzerland
T. +41 44 586 60 33
E-Mail: info@swiss-security-solutions.com
THAILAND
UNITED KINGDOM