Skip trace investigators are professional detectives who specialize in finding missing people and focus on those who have purposefully left town in order to avoid criminal prosecution, debt payment, judgment enforcement or proper bail procedures.
Skip tracing is a highly precise skill and puts the subject of the search at a distinct disadvantage, since experienced investigators are often 2 steps ahead of the target. After all, skip tracers are the world's most able people finders and they can generally locate anyone, anywhere and anytime: locally, nationally or internationally.
This discussion focuses on detectives who specialize in finding people who have skipped town.
Professional Skip Trace Investigator
Many different investigative professionals employ skip tracing techniques. The types of detectives using skip tracking methods to locate their targets include:
Bounty hunters and bail enforcement agents use tracing to locate wanted fugitives and criminals.
Judgment collection agents skip trace people who run out on their court-ordered financial responsibilities.
Repo men use skip trace techniques to locate the owners of the property they seek to repossess.
Private investigators use tracing technologies to find runaways, locate birth parents, find adoptees, locate missing people, track deadbeat dads, find lost loves and perform cult rescues.
Skip Trace Investigator Assignments
It is crucial for any investigative professional to remember that most skips do not want to be found. Locating a skip can be dangerous work and approaching them for any reason should only be performed when all safety precautions are met. Many skips are dangerous felons who will stop at nothing to stay on the lam.
Private investigators can use skip trace tactics to find virtually anyone in the world, for a wide range of reasons. While official skip tracing is used for specific purposes, there is no reason why you can not take advantage of an investigator's skills to locate a person for virtually any reason at all.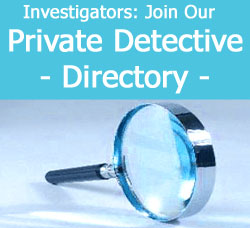 Skip Trace Detectives
Skip trace assignments can be interesting and challenging. The factors which can make a skip difficult to find include dealing with subjects who choose to live off the grid or under the radar of normal society and those who will move to distant and remote locales to avoid being found.
Many skips use an alias and fraudulent identification to help them remain at large. These factors can provide added difficulty for any investigator to overcome. Luckily, most skips have a weakness in the armor. Many are drug addicts and many choose to risk their freedom to contact friends or family members. Using these factors against the missing skip is a sure way to locate them faster and more effectively.
To learn more about hiring a private eye to locate a skip, contact a qualified licensed professional investigator near you.