A credit check is a common occurrence in modern society, as a person's credit rating and history tell much about them as people and their desirability as credit risks. Checking credit is used for ascertaining how worthy a company or organization might be as a credit risk, as well.
Most credit report searches are performed by lending agencies or credit issuers and are meant to determine the worthiness of the applicant to receive monies or revolving credit accounts.
It is always wise to keep up to date on your credit profile, since good credit allows people and companies to accomplish many fiscal goals in life, while bad credit may close doors in more ways than you could possibly imagine.
This treatise examines the uses for credit profiling and also provides guidance for building and maintaining a flawless credit history.
What is a Credit Check?
Credit checks must be consensual and most require that the person or company being checked signs a form which allows a third party to view their credit rating and account histories. Once a person, or company representative, signs the authorization for the search to begin, the third party running the check will receive a complete dossier of information detailing the current and past credit history of the applicant.
This profile will include credit card accounts, revolving credit accounts, mortgages, car loans, personal loans, student loans and other information, such as liens, financial litigation and bankruptcies.
The entity running the check can then accurately evaluate the worthiness of the applicant in order to approve or deny their current credit application or to utilize the intelligence gained for a specific purpose.
Investigative Credit Checks
A credit report check is a common type of private investigation assignment most often handled by specialists in financial investigation and background checks.
P.I.s can gain access to a person's credit history through the usual means, such as through a signed permission, but many insiders also can find out valuable credit information and financial histories without the subject of the inquiry ever knowing that they are being investigated.
This is why professional detectives can be so effective in business investigations and other matters which involve credit profile searches.
Private eyes are usually used to take a normal credit check to a whole new level. If negative or suspicious information is uncovered in a credit report, or is thought to exist regardless of its absence on a credit report, an investigative professional can find it. The subject of the inquiry may have used legal or illicit methods of concealing financial accounting and credit issues in their past, using an alias, a bankruptcy or a variety of other measures.
These problematic details may not be fully disclosed on a typical credit report and if illegal methods of hiding the truth were used, the falsified profile might actually appear to be idyllic.
Investigators can look far deeper into a person's past and present financial dealings to uncover instances of fraud, judgments, litigation, foreclosure and forfeiture which may be important to their current credit aspirations.
Credit Check Guidance
Credit history checks are slightly damaging to a person's credit, so it is crucial to minimize unnecessary inquiries into your own credit history.
Inquiries which result in a denial of credit may further damage credit standing, so do not apply for credit if you do not expect to qualify for it.
It is absolutely vital to maintain a good credit standing by maintaining the following rules:
Always make payments on time or ahead of schedule.
Always pay at least the minimum payment due.
Try not to make minimum payments regularly, but send additional principle whenever possible.
Do not have too many outstanding credit accounts.
Try not to maintain high balances, especially for extended time periods.
Try to stay out of legal trouble, since financial lawsuits, defaults and foreclosures may be catastrophic to your credit profile.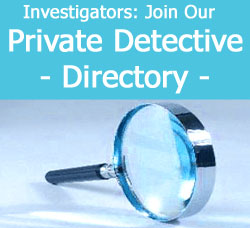 Credit Check Advice
Credit is a much guarded and valuable resource for most people and organizations. The average person or business entity regards their credit rating with respect and seeks to protect it at all costs. However, this does not apply to the unethical criminal mindsets of people or organizations that use the credit laws to steal legally.
There are many ways in which a person can take advantage of credit in their favor, basically walking away with purchases or monies without repayment. This type of financial fraud affects all of us, as society as a whole must pay these costs in one way or another. This is exactly why so many financial investigative professionals relish their jobs, since they have the chance to catch the bad guys and protect the public against fraud in all its forms.
If you have nothing at all to hide, then you can always have a clear conscience when applying for credit anywhere. Just be sure to use common sense when using your credit, since you must still be able to pay the bills, even if your approval is guaranteed.
So many consumers are approved for more credit than they can actually afford and wind up defaulting if they get carried away with their spending habits. When this occurs, they end up the subject of financial investigations and their credit rating will eventually be lowered drastically or destroyed.
Never willingly and purposefully use credit for unfair gain. In the end, no matter what methods you use, karma will take its toll in the form of legal ramifications or other punitive occurrences.
Private investigators are more involved than ever before in financial and credit history checks and most professionals will work diligently to delve deeply into a credit report for any possible negative information.
Just remember that credit is a privilege, not a right. Always cooperate with credit policies and agreements. Otherwise, you may just find yourself as the subject of an investigation case brought against you by a creditor or other financial entity.