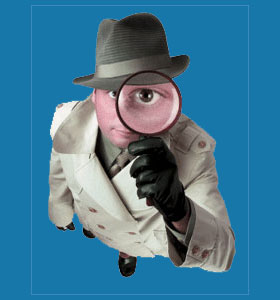 The term gumshoe has been used to describe private detectives since the late 1800s. This nomenclature refers to gummy-bottomed shoes, typically worn in bad weather, which made little or no noise when walking. These shoes were perfect for sneaking around and the term seemed appropriate for investigators of all sorts, who needed to use stealth and cunning to solve their cases.
Despite the fact that these types of shoes are not worn anymore (being replaced mostly by sneakers another detective favorite), the name has stuck and is still used to describe any professional working in the investigation arts and sciences.
This enlightening essay provides a look at why this particular term still has links to the professional detective vocation.
Gumshoe Alternative Meanings
Some modern investigators and linguistics experts cite 2 other reasons for the word to be used to refer to private detectives.
First off, the gummy shoes worn in rain and snow were very hard to get on, but even more difficult to get off. This metaphor reflects the way an investigator was very hard to shake off a target, once they were on the trail. This term is related to the name bloodhound , which is also used for detectives throughout earlier historical times.
Second, investigators are known to walk the streets and interact to people in their quest for information. The hours are long and the world is a big place to canvass for information. Investigators often did tremendous leg work in gaining their intelligence and would inevitably step in gum on the sidewalk or street. The term paid homage to the hard fought battle to uncover secret case information at the expense of massive amounts of sweat equity.
Gumshoe History
This colorful name was often used in detective fiction and media portrayals of professional investigators and police detectives, alike. Gum-shoed sneaks in trench coats hiding in the shadows and spying from behind a tree, wall or parked car came to romanticize the investigator profession.
Generations of children and adults took enjoyment in reading detective novels, listening to detective radio programs, watching investigation television programs and seeing their sleuth heroes on the big screen in films. We believe that almost every child imagined themselves to be a great detective at least once during their formative years.
Gumshoe Nomenclature
Although this particular term has fallen out of favor, as the profession has risen to ever greater and more prestigious heights, the legend and reputation of the detective endures to this day. In fact, crime fiction and television programs are more popular than ever and more real people are entering the investigative career paths than ever before.
To learn more about hiring a private investigator to help you achieve all your intelligence gathering needs, contact a local investigation association near you. To learn more about becoming a private detective yourself, contact one of the many private investigator schools for a complete course description.