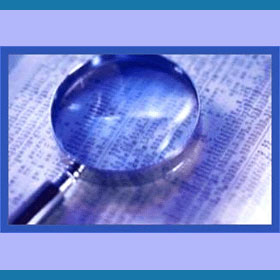 Providing quality private investigator information is the goal of this website. As experienced working investigators for many years, we have grown tremendously in our personal and professional knowledge using the lessons that we have learned on the job. It is our wish to provide three distinct services through the use of this website:
To help other professional investigators to enrich their knowledge base, have access to valuable resources and learn about many facets of the job that might be previously unknown to them.
To help people who are interested in hiring private investigators to learn about the profession and how they can choose a quality detective for the best price possible.
To assist people who are interested in a career in private investigation, by providing information and knowledge about how to get started in the detective arts and how to grow your business to become a successful enterprise.
Information for Working Detectives
We hope that this site is useful for working investigators who have specific questions about their current jobs or about related industries. Many P.I.s have contacted us and conveyed their appreciation for opening their eyes to other streams of income and job opportunities, which were previously unexplored in their careers.
Investigation is a very diverse business, but we have found that even professionals who struggle in one facet, may find a completely lucrative career in a related industry. Remember that some of the other career paths which are closely related to private investigation include:
Bounty hunting and bail bonds enforcement
Polygraph testing and other lie detection modalities
Bodyguard work and executive protection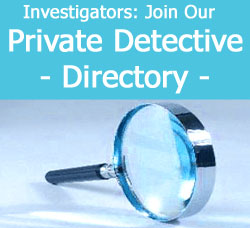 Private Investigator Information for the Public
Hiring a private investigator can be a confusing and daunting experience. You obviously have a great need for help with a particular matter, but you are not sure the best way to go about achieving your objective. This is normal, so relax. Professional investigators are experts in sorting out all types of situations and providing intelligence gathering for civil and criminal matters.
We always advise potential clients to shop around and interview several investigators, before making their choice. This way, they can compare and contrast services, demeanor and fees, to get the best value for their hard-earned dollar. It is important that your investigator meets licensure and bonding requirements in your area, so be sure to inquire about these crucial details before signing a contract with anyone.
If you still have a difficult time locating the best investigator for your case, consider contacting a private investigation association for a referral.
Private Investigator Information for Detective Trainees
Would-be professional investigators often do not know where to begin when planning a career in private detective work. They often have questions about investigator training and the schools which provide the best quality education for the money. Additionally, they are often confused about private investigator licensing requirements and how they can actually make the leap into working as a detective.
Some interested parties have prior military or police experience and easily integrate into private sector work. However, other people come from a diversity of backgrounds and do not know how to get started in a P.I. job.
We hope that the resources on this website will provide answers to many of these questions and will help to build the next generation of quality professional investigators.